Estee Lauder Free Gift 2/1~2/18
Posted on

2/1/2017 3:46 PM

in Promotion by

Cosmos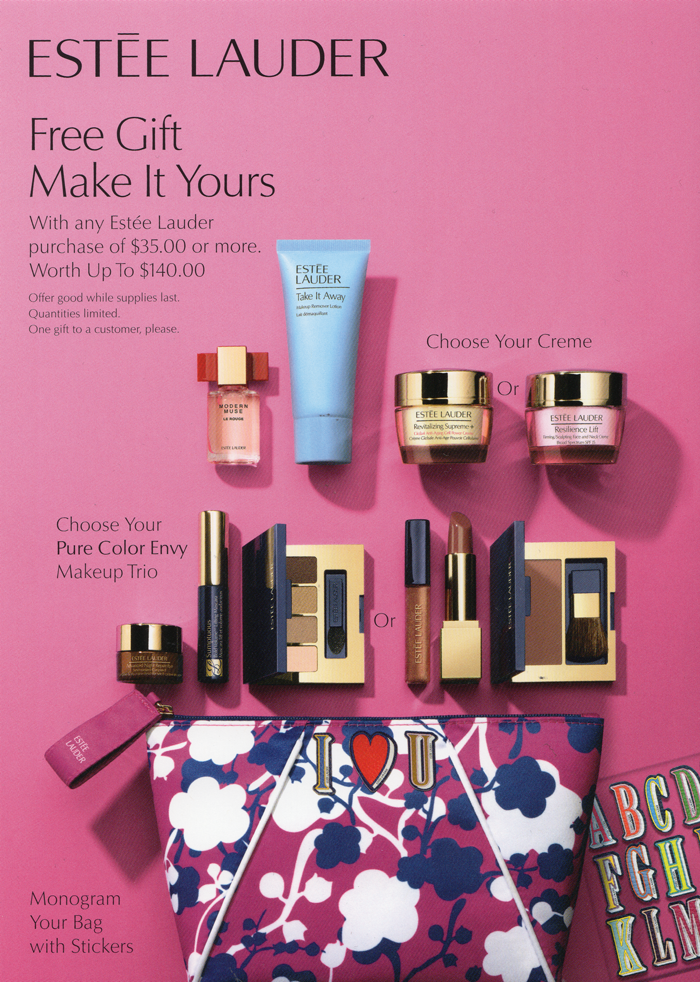 Make It Yours!
ESTEE LAUDER FREE GIFT EVENT
Starting Now through Feb/18
With any ESTEE LAUDER purchase of $35 or more you will get 6-piece Cosmetics and Monogram Bag with Stickers, worth up to $140.
Make your own unique style pouch with alphabet stickers.
This deal is only available at COSMOS Manhattan, Flushing, and New Jersey.

Your Gift is (worth up to $140.00)
- Modern Muse Le Louge Spray
- Take It Away Remover Lotion
- Random Cream 30ml (Revitalizing Supreme+ Cell Power Creme or Resilience Lift Creme)
- Random Pure Color Envy Makeup Trio (Advanced Night Repair Eye, Sumptuous Mascara, and Pure Color Eye Quad or Pure Color Envy Blush, Lipstick, and Gloss)
- Monogram Bag with Stickers
Here is Step up additional gift with purchase of $75 or more.
- Advanced Night Cleanser
- Advanced Night Repair Sydchronized Recovery Complex II
- Random Eye Creme (Supreme Eye Balm or Resilience Lift Eye Creme)
- both gift total value $225.00
*Offer good while supplies last. Quantities limited.
*One Gift to a customer, please.
Call for details or Visit nearest COSMOS branch.
Cosmos Manhattan (212) 889-6410 / Cosmos Flushing (718) 661-3416 / Cosmos New Jersey (201) 592-9211
당신의 파우치를 완성하세요!
에스티 로더 무료 사은품 이벤트

개성만점 유니크한 파우치와 스티커로 당신만의 파우치를 완성해보세요!

행사 기간 내 에스티 로더 화장품을 $35 이상 구매하시는 분께 $140 상당의 인기 화장품 6종과 봄에 어울리는 모노그램 화장품 파우치를 증정합니다.
사은품 구성품:
- 모던 뮤즈 르 루즈 스프레이
- 테크잇 어웨이 리무버 로션
- 크림 30ml 랜덤 증정 (리바이탈라이징 수프림+ 셀 파워 크림 or 리질리언스 리프트 크림)
- 퓨어 컬러 엔비 메이크업 트리오 랜덤 증정 (어드밴스드 리페어 아이크림, 썸츄어스 마스카라, 퓨어 컬러 아이 쿼드 or 퓨어 컬러 엔비 블러셔, 립스틱, 글로스)
- 모노그램 핑크 화장품 파우치 및 스티커
$75 이상 구매하는 분들을 위한 스-텝-업 추가 선물!
- 어드밴스드 클렌저
- 어드밴스드 리페어
- 아이 크림 랜덤 증정 (수프림 아이 밤 or 리질리언스 리프트 아이크림)
총 $225 상당의 사은품 증정!!
본 이벤트는 코스모스 맨해튼점, 플러싱점, 뉴저지점에서 만나볼 수 있습니다.
*본 이벤트는 한정 수량으로 진행되며 사은품 조기 소진시 조기 종료될 수 있습니다.
*사은품은 1인 1회에 한하여 증정합니다.
상품이나 이벤트에 관한 자세한 문의는
코스모스 맨해튼점 (212) 889-6410 / 코스모스 플러싱점 (718) 661-3416 / 코스모스 뉴저지점 (201) 592-9211
You must be logged in to post a comment.
click here to log in